April 2023- September 2023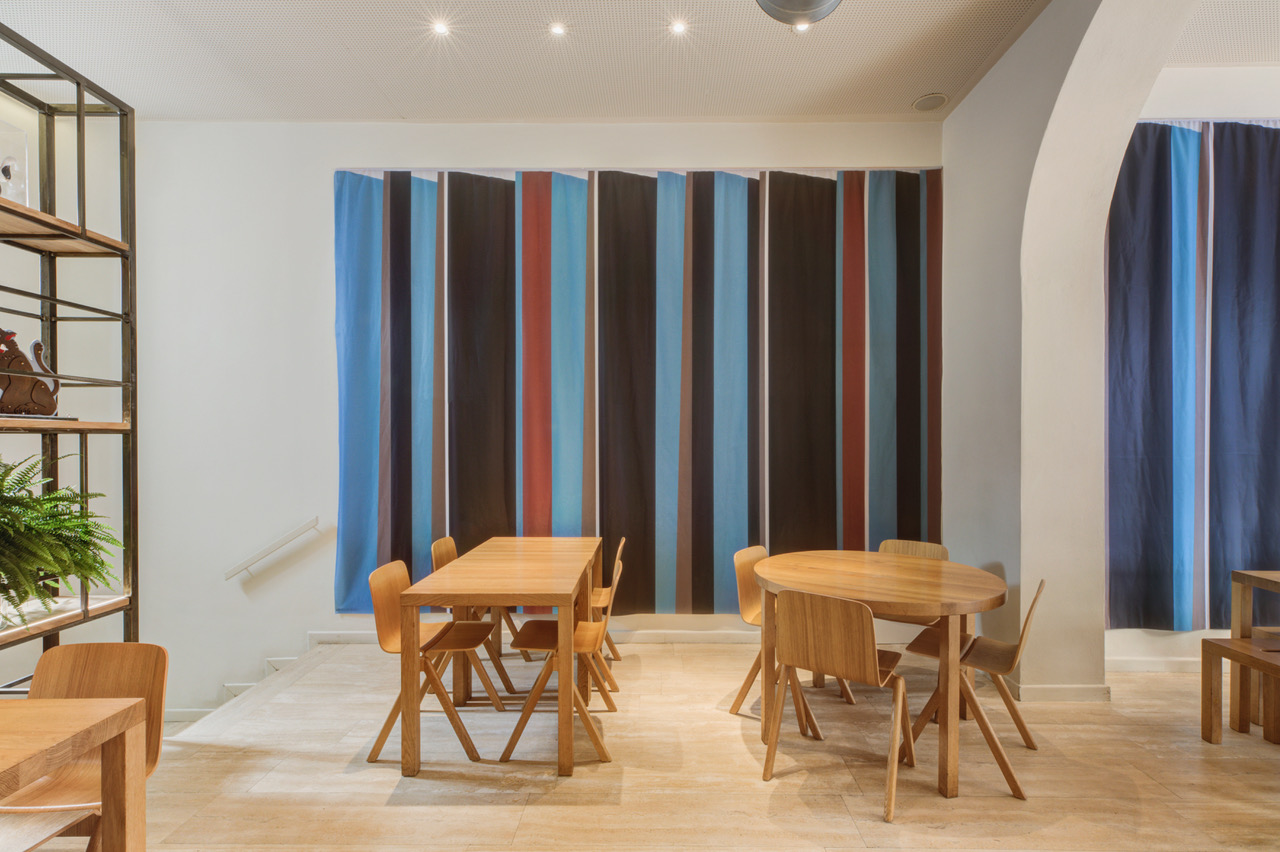 MICHELE LOMBARDELLI IN THE AREAS OF ZAZÀ RAMEN
Zazà Ramen sake bar & restaurant presents Untitled Cloth, the site-specific intervention by Michele Lombardelli in the spaces of the restaurant in via Solferino.
Michele Lombardelli has always relied on transversal research, in which the experimentation of languages moves simultaneously towards painting as a sign, the photographic image as a text, the book as an object of investigation and sound as a material for exploration, to paraphrase the text that Vittoria Broggini wrote for her personal exhibition at the MA*GA Museum in Gallarate last year.
On the occasion of Untitled Cloth, Lombardelli starts from a chromatic pattern to create an environmental installation that returns a synthesis of some aspects of his work. Occupying the wall to the right of the restaurant entrance, the artist presents two cloths which, for a total of 8 metres, are fixed to the wall. The selected colours are bronze, rust, cerulean and black and are printed on the fabric with peculiar characteristics: if on the one hand the material is light, evanescent, dreamlike, on the other hand it is very resistant, it is also used in the nautical world and allows to impress the rigor of a geometric motif on an iridescent and transparent surface. This veil, which moves slightly as customers pass by, animating the restaurant rooms as if it were a curtain, is seamless to give the effect of a clean cut and to conceive a surface that could continue without a border that delimits it. The synthesis of the site-specific intervention that Michele Lombardelli has thought up for Zazà Ramen refers to his worlds, in particular to the musical pictorial one, accentuating the environmental and expansive attitude of his patterns.
To complete the intervention, the artist has created a multiple entitled Untitled Cloth Project, which consists of a woodblock print, physically executed by the artist using the baren tool of Japanese tradition in an edition of 12.
The exhibition program, which continues until September 30, also provides for the artist to intervene in the spaces with some evenings dedicated to the sounds of the traditional and experimental Japanese scene, to create an even deeper bond with the culinary project of Brendan Becht, owner of the restaurant.
Michele Lombardelli (Cremona, 1968)
Among the exhibitions, we recall the personal ones: Museo MA*GA, Gallarate, Spazio Kappanoun, Bologna, A+B Gallery, Brescia; Arrivada, Milan; La Rada, Locarno; Hall of Columns, Corbetta MI; MOT International, London; AMT, Milan; Bonelli Contemporary, Los Angeles; A+M bookstore, Milan; Museo Arte Contemporanea, Lissone. His work has also been hosted by: MA * GA from Gallarate; Assab One, Milan; CeSAC, Caraglio; Chateau de Chillon, Montreaux; The Triennale, Milan. His artist books have been exhibited in institutions such as the National Gallery of Modern Art, Rome; Casa del Mantegna, Mantua; Musée Cantonal Des Beaux Arts, Lausanne; MA*GA Museum, Gallarate; The Triennale, Milan. Among the publications: Echo Park Comfort Inn, A+M bookstore, Milan 2003; Los Angeles 1989/Tokyo 1991, Humboldt Books, Milan 2017, California, Humboldt Books, Milan 2020, reported by Rolling Stone among the seven best photographic books of the year; Untitled, Postmedia Books, Milan 2022