October 2019 – September 2020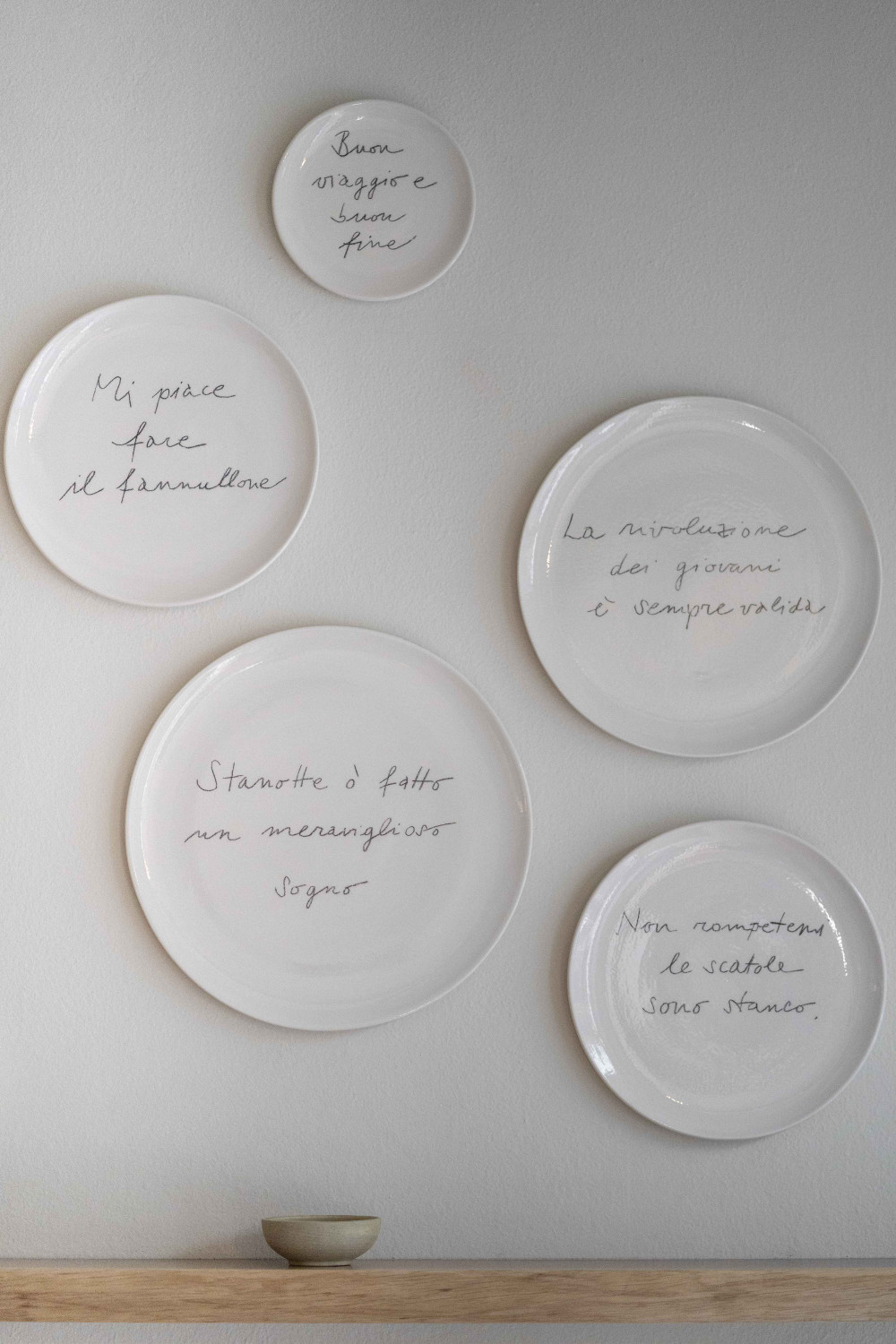 Oggi sono proprio contento di stare al mondo
Combining contemporary art and Japanese cuisine, Zazà Ramen sake bar & restaurant inaugurates a new project by artist Marco Andrea Magni.
Inspired by the idea of conviviality, the artist presents a selection of works where the subject matter, namely words and food, coincide with the exhibition environment: the restaurant founded by chef and art collector Brendan Becht. Ceramic plates and bowls with writings by Lucio Fontana adorn the walls and tables of the restaurant, whilst vases made of uncooked clay mixed with clepsydra sand are exhibited in the metal "tokonoma". Zazà Ramen's intimate atmosphere, which combines the aesthetic minimalism and hospitality of Japanese tradition, invites the viewer to experience art through sharing.
«Words and food are made of the same matter» said Brazilian topologist and psychoanalyst Rubem A. Alves. How could one imagine a better place than a laid table to start a conversation? The dialogue between Brendan Becht and Marco Andrea Magni could have originated like this: sitting at a table, talking, and discovering that they share notably similar interests, from their love for the history of cooking to that of art, from Gualtiero Marchesi to Lucio Fontana. It is precisely Fontana, famous for his "Cuts" (slashed paintings), who Becht met as a child in his parent's home, that inspired the sculptures presented by Magni at Zazà Ramen. Magni reproduced with ceramic pencil on a series of plates and bowls the words written by Fontana on the back of his canvases, as a sort of autobiography in episodes. By reading the daily notes left by the father of Spatialism, new combinations are born and weave together the stories of who comes, sits, and eats at Zazà's tables.
Similar to the art of cuisine, Magni's sculptural research expresses the respect for pure matter, translated in a sort of "architecture of the banquet" where the gathering is the essence. On one side flour becomes dough, on the other clay takes the shape of vases and dishes. Both are ways of sharing, tools for words and listening. The vases by Magni, titled Oratorio, are made of uncooked clay, referring once again to conversations and time spent together. Zazà Ramen becomes a domestic space, a welcoming place where tradition and experimentation are brought into dialogue with the intimate nature of man, through the use of words, the pure matter of communication.
Marco Andrea Magni (1975), lives and works in Milan. Graduated from Brera Academy of Fine Arts, he obtained the FSE master's degree in Techniques of Organization and Communication of the Visual Arts. He attended the course in Visual Arts at the Antonio Ratti Foundation in Como, curated by Angela Vettese and Giacinto di Pietrantonio, with Richard Nonas. At the IUAV in Venice, he participated in philosophy seminars with Giorgio Agamben, of architecture history with Roberto Masiero, and of visual art with Remo Salvadori. He works on the condition of possibility and situation by offering a new body experience declined in a sculpture. His work follows a path that runs from moral philosophy to artistic reflection, from the experience of sculpture to finding its own epicenter in the questioning with the other, which becomes his speaker and measure. His works seem like ways of being in the world, they follow its forms, accepting from time to time the right measures to fit them. Among his personal exhibitions: Fuggisole, Galleria FuoriCampo, Siena (2019); Touché, Il Crepaccio Instagram Show, curated by Caroline Corbetta (2019); Ho sempre agito per dispetto, curated by N. Mafessoni, Loom Gallery, Milano (2017); Blunder, con F. Longhini, Loom Gallery, Milano (2017); Lo spazio punto, curated by the Galleria FuoriCampo, Sinagoga di Siena, Siena (2017); Lo spazio punto, Galleria FuoriCampo, Siena (2016); Frodi e Fedi, Surplace, Zentrum, Varese (2016); Frodi e Fedi, Riss(e), Zentrum, Varese (2016); Marco Andrea Magni / Giovanni Kronenberg, Galleria FuoriCampo, Bruxelles (2014); Poppositions, Brass, Bruxelles (2013); Più giovani di così non si poteva, Galleria FuoriCampo, Siena (2012).