November 2017 – March 2018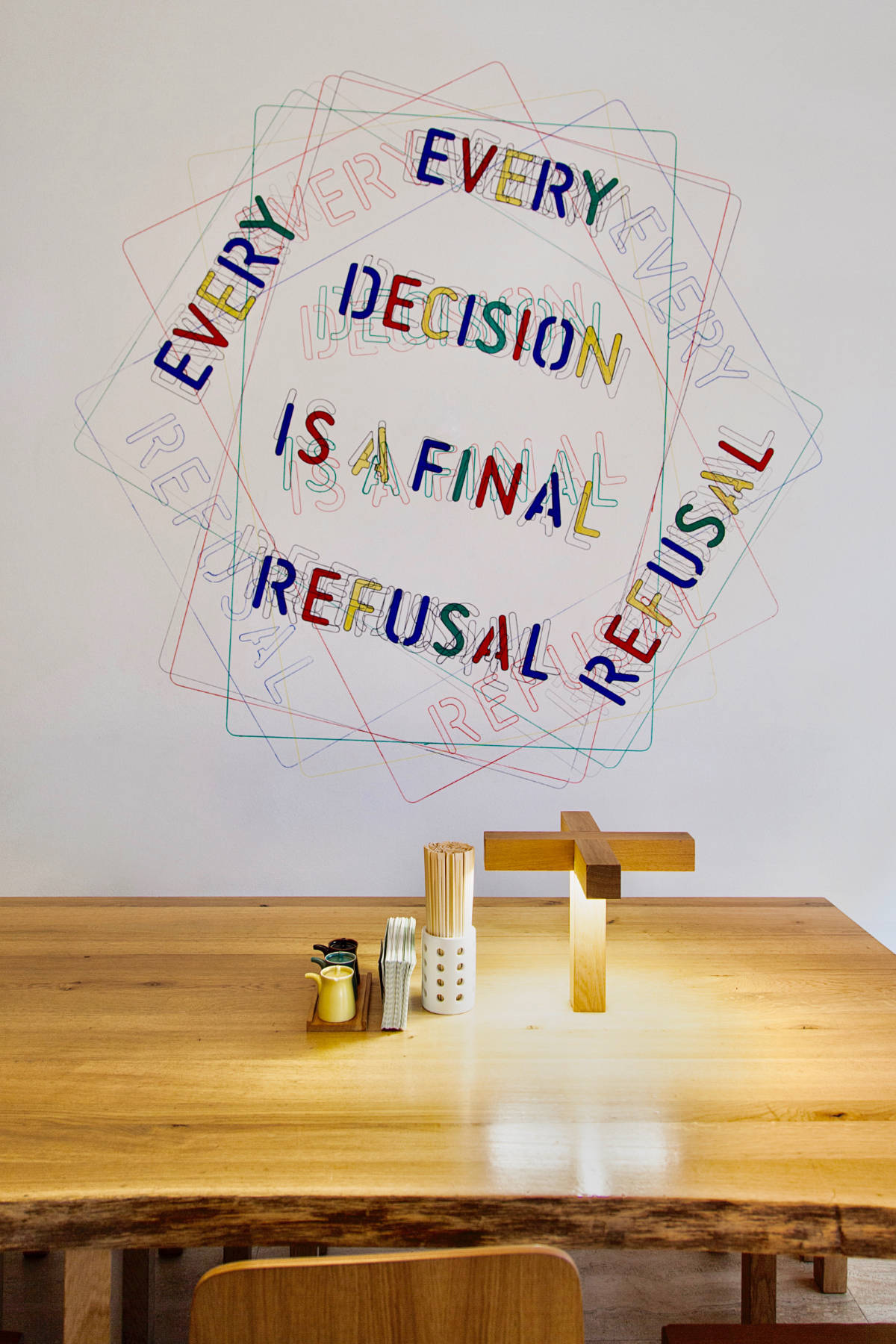 Every decision is a final refusal
From November 1, 2017, Zazà Ramen noodle bar & restaurant presents a site-specific project by Dutch artist Job Koelewijn (1962, Spakenburg, The Netherlands).
Every six months the well-known restaurant of Via Solferino in Milano dedicates to contemporary art a wall-project specially conceived for its space, on invitation of founder Brendan Becht. Motivated by the desire to make art and cuisine spontaneously coexist, the appointment with creativity accompanies Zazà Ramen since its founding in 2013, and has featured renowned international artists such as Tobias Rehberger, David Tremlett, Kees de Goede, Jan van der Ploeg.
For this new appointment, Brendan Becht invites conceptual artist Job Koelewijn to realize one of his characteristics wall drawings, graphite wall drawings consisting of aphorisms and literary phrases. Realized with stencils that, moving slowly, create an overlaying text thus giving the perception of a motion picture, Job Koelewijn's writings are almost existential mantras. Words and images converge in the work, inviting the viewer to reflect on the content of the text, as in this case, "Every decision is a final refusal," drawn by Baruch Spinoza's Ethics. At a first reading simple and concise, the contradiction of the phrase manifests itself over time and in its repetition: the more you read it, the more it becomes penetrating.
Along with those that preceded it, Job Koelewijn's project fills the spaces of Zazà Ramen and the time of its customers with discretion and style. Exposed on the walls of a restaurant in an unconventional setting, contemporary art opens up new perspectives of fruition and unprecedented interpretations. All you have to do is try one of the delicious ramen of Zazà and let Job Koelewijn's words come into the rhythm of everyday life.
Job Koelewijn was born in 1962 in Spakenburg, The Netherlands. He lives and works in Amsterdam. After a car accident in 1984, he decided to deepen his personal research in the field of art. His work is based on the creation of installations, photographs, objects and multiples that stimulate the use of different senses besides sight, such as hearing and olfaction. He participated in the Venice Biennale in 2001 where he covered Palazzo Ca' Zenobio with fragrant powder for infants. Job Koelewijn is also deeply influenced by text and poetry – particularly by Samuel Beckett and Dante – and literary references appear materially in his installations, from pages or book covers to aphorisms and mural literary quotations. In 2008, the De Pont Museum in Tilburg dedicated to his work an important retrospective entitled Loco Motion.
text by Giulia Bortoluzzi